NASCAR Trucks: Page 2
The Gloy-Rahal Racing truck goes on track for a practice run. This is a Ford truck. Notice the positive camber on the left front tire. Also the fender flare. At Martinsville, a 5/8-mile flat track with a mid-corner speed of 60 mph, they run 7 or 8 degrees positive camber on the left front wheel. You can see the sidewalls wrinkle when they push the cars (Winston Cup and Trucks) around in the garage area. Ron Barfield is the driver of the 55 truck.
Hendrick Motorsports' Chevy truck driven by Jack Sprague the fastest qualifier at 28.037 seconds.
Another view of the 24 truck, a Chevy, next to the Ford of second-fast qualifier, Rick Crawford. Notice the fender flares.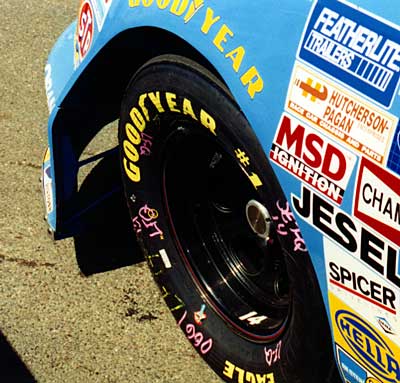 A closer look shows an adjustable support for that fender flare. On superspeedways the fenders and wheel cutouts are fitted to the tire very carefully to minimize aerodynamic drag. On shorter tracks like Phoenix the fenders are flared out to produce downforce. If the bodywork behind the tire can be curved so the trailing edge of the tire sticks out away from the sheet metal behind it, the tire becomes a pump pushing air out from under the car increasing downforce on the front of the car. I'd guess the right-front tire, when turned into a corner would pump enough air to make a difference.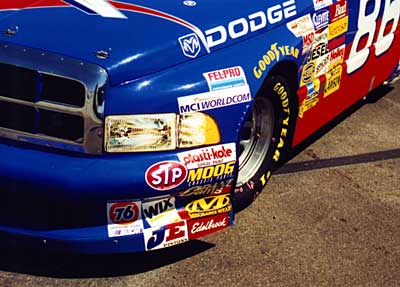 The production Dodge truck is bigger than its Ford and Chevy counterparts so the race truck is scaled down to make it more compititive with the other trucks. This truck was driven by Stacy Compton, starting in sixth place, the best qualifying Dodge. Notice the lip on the edge of the flares. This acts like a Gurney flap, lowering pressure behind it and increasing flow from under the front of the car, at a drag penalty of course.
The fender flares on the Ford trucks have the Gurney lips also. Each manufacturer spends a lot of time and money on wind tunnel testing. Some teams also do tunnel testing. Looking at these photos the Dodge and Ford front ends look smoother to me. I wonder if the Chevy truck doesn't have a little more drag than the others. If I'm right it doesn't keep them from winning.
Trucks Page 3