Indy Racing League at Phoenix
Overcast, breezy, about 60 degrees. The weekend started out with everybody worried about rain, but only a few drops fell. This is a view from the east end of the garage west toward Turn 1. The team haulers are lined up on the left and the covered garages are on the right.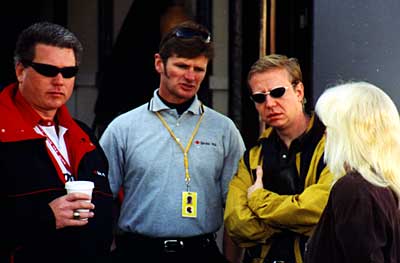 Sam Schmidt, driving for Treadway racing, talks to friends in the garage area.
Sam is in the car ready for the first practice session. The car is a G Force chassis with an Olds Aurora engine on Firestone tires.
The practice sessions were run in two groups. Raul Boesel is watching the timing and scoring monitor while waiting to go on track.
The Bradley Motorsports team practices pit stops while waiting for their session on track. In the background is the famous hillside where people watch the better-attended events here, mainly the NASCAR Winston Cup race. Not to worry this weekend, there's plenty of grandstands for the Truck/IRL crowd.
Bradley engineer, Jeff Braun, and team manager, Mike Collier. Jeff left the team the week following the race saying he was not happy with the results. The Bradley driver, Buzz Calkins, finished the race 14th, 13 laps down.
Jeff Braun coaches Buzz Calkins during a practice session.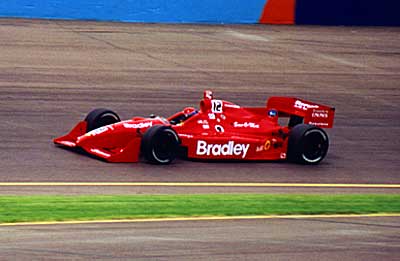 Buzz Calkins in Turn 1. The car is a Dallara/Olds Aurora on Firestone tires.
IRL Phoenix page 2