uploaded 5/21/99
Indy Report #2
by Jeff Braun
Thursday, May 20, 1999
Dwayne Joyner, Firestone engineer, uses a Palm Pilot with an attached pyrometer to log tire temperatures and pressures on Nick Firestone's car. Nick is the great grand son of the founder of the tire company.
Brad McCanless, McCormack team manager in blue shirt, sits on a front A-arm as he talks with Nick on pit lane.
Nick Firestone gets ready to go on course.
Dennis McCormack, team owner, in the blue shirt. That's Paul Burgess, design engineer for G Force, in white shirt. Paul is on loan to the team acting as race engineer on Nick's car.
A view from the middle of the pit lane looking to Turn 4. This is a BIG track.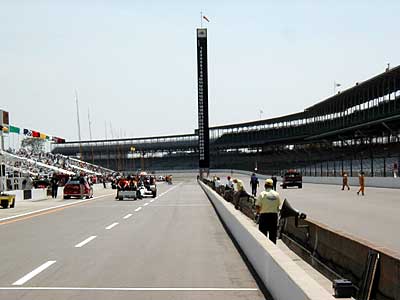 I turned around after taking the previous photo and shot this one toward Turn 1. It always amazes me how LONG the straights are here.