uploaded 5/19/99
Jeff Braun's Indy 500 Report
Jeff is engineering the car driven by Jimmy Kite. They're on the McCormack Motorsports team sponsored by TransWorld Services. Jimmy's team mate is Nick Firestone. Both cars are 99 G Force chassis with Olds engines built by NAC. The blue car is Jimmy Kite's, and the red one is Nick Firestone's.
This is one aisle of the garage area at the Indianapolis Motor Speedway. Look at those big, fleecy summer Mid-west clouds.
The famous Gasoline Alley sign marks the entrance to the garage area. We're looking toward the front straight. That's the scoring pylon pointing to the sky. The team garages are to the left and there is a row of vendor garages to the right.
A sign over each garage tells the team, driver, and sponsors.
A laser ride height sensor is mounted on the underwing. The cars are very sensitive to ride height and rake. Small changes on the order of .020 inch are felt by the driver.
The G Force "wheel flip" lowers drag caused by the rear tire. Many different styles are being tried.
Radiator and tunnel inlet - no strakes or turning vanes allowed by IRL -
note small rad inlet as the cars in IRL run at high speed at all tracks.
G Force rear suspension. Those are Ohlins shocks. [Is that a Hypercoil spring on the left and a Eibach on the right?] Note the big oil tank.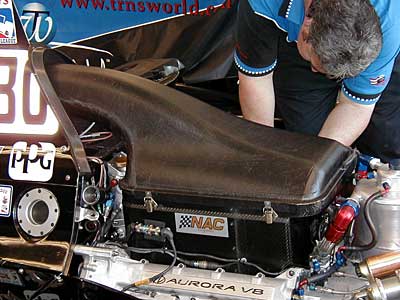 The engine air box.
The box with the green sticker is the IRL rev limiter (10,300 rpm). The Decise box is the Engine control unit and the small box at the top is the junction box for the Pi Engineering data acquisition system. That's the refueling "buckeye" at the right.