uploaded 10/5/2001
McLaren Hospitality

Back to the USGP Start Page.
On Friday I was a guest of Sun Microsystems in the McLaren hospitality area.
This was one of four McLaren rooms in suites in the second floor of the garage buildings. Sun had about 30 people there on Friday. An attentive staff served lunch at 2 pm after the second F1 practice session of the day.
John Loiacono, our host, on the right with a guest. John and I talked for about a half-hour about the Sun/McLaren relationship. Sun sells McLaren computing systems and participates in their technical partner program. "We don't do this for logo exposure," John told me. "Our logo is barely invisible. They're on the rear-view mirrors. But we can use McLaren hospitality to give provide a unique experience for Sun employees, suppliers, and customers."
The floor-to-ceiling windows in the suite proved perfect for snapshots of the cars in pitlane. This is an Arrows.
Crewmembers push a BAR car back into the garage. When the cars came into pitlane they would stop for about 8 seconds and then do a short burnout simulating a pitstop.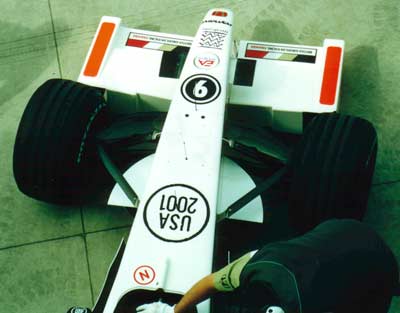 This is a shot of that same car. They have covers over the front wing elements but you can see the sculpted suspension links and the horizontal fins on either side of the nose.

A Benetton on pit lane.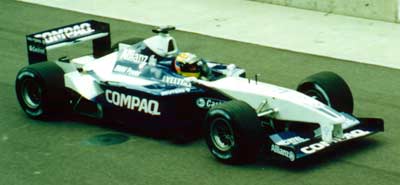 A Williams with Ralf in the seat.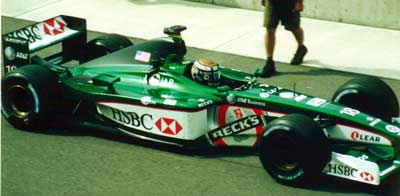 Eddie Irvine in a Jaguar.
Michael Schumacher in his Ferrari.