uploaded 10/4/2001
People at the USGP
Back to the USGP Start Page.
This area between the garages on the left and the team offices on the right is where all the people watching went on. That's the pagoda to the north in the background. Farther to the left on the other side of the garages is the pitlane and front straight. Above the garages are the high-buck hospitality suites. On Friday I was a guest of Sun Microsystems in the McLaren hospitality area. I took photos from there and a page will be uploaded later reporting on that.
The row of buildings on the right house team offices and lounge areas. Farther to the right are the garages normally used by teams during the Indy 500 and the Brickyard 400. The F1 teams use the first row of those garages for food and crew lounge areas.
Nick Hughes and Jim Arndtz in the white shirts, engineers with Penske Racing Shocks, talk with Jaguar engineers. I think the Jag guy on the far left is Jay O'Connell a Ford engineer who was Ford's CART program manager.
Niki Lauda keeps an eye on things in the Jaguar garage.
David Couthard, McLaren driver, walks through the paddock. The flowers and plant sculpture are typical of how some of the F1 teams spend those huge budgets.
Here's DC in the McLaren garage. I saw him there talking to engineers and crew on several occasions over the three days. I never saw Mika Hakkinen in the garage unless he was getting in or out of the car.
Ron Dennis of McLaren and Norbert Haug of Mercedes walk through the paddock. I also saw Mario Illien of Ilmor at the USGP. I'll bet he's under some pressure to get more power out of his engine.
Jacques Villeneuve hand-in-hand with his girl friend, a very pretty woman.
Gary Anderson and his wife Jennie visited the paddock talking to old friends. In 2000 Gary moved from technical director at Stewart/Jaguar to head up Reynard North America.
Juan Pablo Montoya talks with engineers in the Williams garage.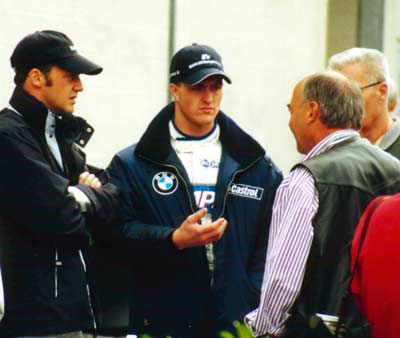 Ralf Schumacher pauses to talk to people in the paddock.