uploaded 2/25/2000
More Autosport Show
Someone is building an oval track they're calling Rockingham. They had a huge display at the show.
One of the cars on display is a show version of Dale Jarrett's Winston Cup car. Of course, he is the reigning WC Champ and just won the Daytona 500. Stock car racing is getting extremely popular in England. I spoke to an instructor at Cranfield University and he bent my ear about the dirt car he drives on a small local track. There were vendors at the show selling Big-Iron parts and cars and they had crowds. I also saw sprint-car types on display.
This display in the AP booth shows the evolution of clutches from great big steel single-plate deals to modern 4.25 in diameter, multi-plate carbon units.
One of the most impressive ways to display a racecar is to hang it on the wall. It also saves floor space and gets them up out of the public's filthy grasp. This was the Cosworth booth where I actually had a glass of champagne with retiring Director Dick Scammon. A nice guy with some great racing stories that I didn't write down and have forgotten.
An indoor kart track runs continuously. I didn't have the patience to stand in line. They've got the floor coated and the karts have hard tires so they don't go very fast and slide a lot.
The show was much bigger than the last time I was there, five years ago. The kart section was a third of the show then but less than 20% now. The sell everything from kart clothing to whole karts ready to race. It's a big deal in the U.K. There are indoor kart tracks all over with regular races every weekend.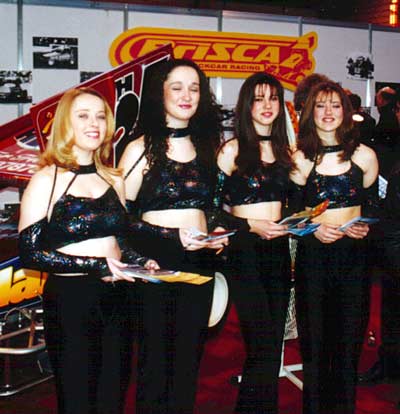 I admit I had lust in my heart. Then I found out they were all 16 or 17 years old. The girls were very friendly and were having a great time.