uploaded 2/24/2000
Engineering Show
The Engineering part of the Autosports show was in a seperate hall. The booths were smaller and less glitzy than on the man floor. Here's the entrance.
Attendance was good.
Racecar Engineering magazine sponsored the Engineering Show. Here's the Racecar booth. That's Alan Lis, Racecar's only staff writer, in the middle talking to a couple of photographers.
Penske Racing Shocks had a booth in the Engineering show. Their U.K. distributor, SPA Designs, had a much larger booth on the main floor.
That's Glen Knabenshue and Jeff Ryan of Penske Racing Shocks manning the booth.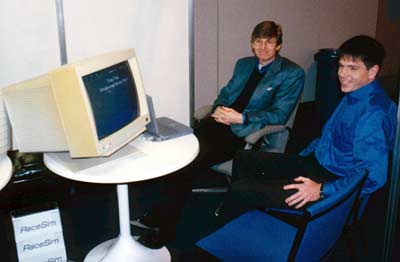 Chris Murphy and Stefan Kosuch introduced their RaceSim software at the show. Carroll Smith picked their product as the most innvotive of the show. Chris travelled to Homestead, Fla. for CART Spring Training and demonstrated the software to several teams. At only $20,000 it's one of the most useful simulations for the money. You can email Chris at chris.murphy@datas-ltd.com.
That's Kurt Roehrig being interviewed. He shared a booth with Ohlins and demoed his damper dyno.