uploaded 2/28/2000
The Donington Collection
On Sunday after the Autosport Show Alan Lis, his friend Tim, and myself drove north from Birmingham to the Donington race track to see the racecar collection there. I didn't pick up any literature, but I think I'm right that Tom Wheatcroft is the owner of the track and the collection.
Alan took this photo of me in front of the magnificent monument near the entrance to the building. The sculpture depicts Senna and Fangio acknowledging each other with a hand wave. Their race wins are on the side panels. Here's a closeup.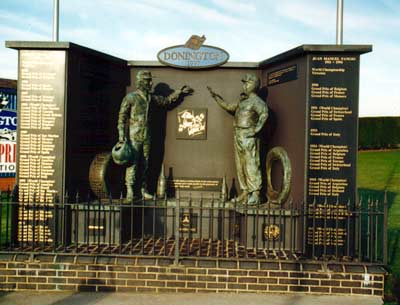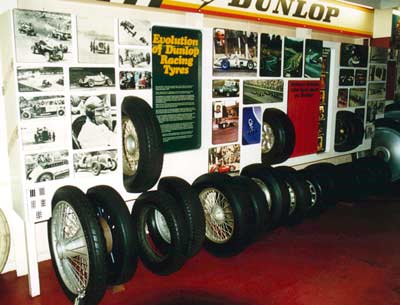 This Dunlop display shows how tires started out tall and skinny and evolved toward short and wide.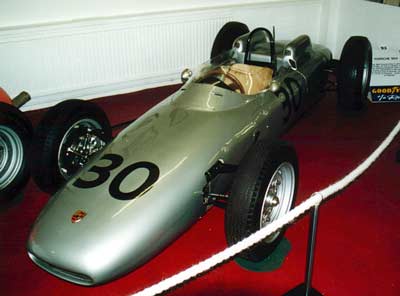 This is the Porsche GP car with which Dan Gurney won his only Formula 1 race.
An interesting detail: The brake disc is bolted to the wheel on its outer diameter. There isn't a brake hat bolted between the brake disc and the hub.
Here's a whole room full of McLaren F1 cars. I counted 26!
The Tyrell 6-wheel GP car. An attempt to lower tire drag without sacrificing grip. F1 racing was much more open to innovation then.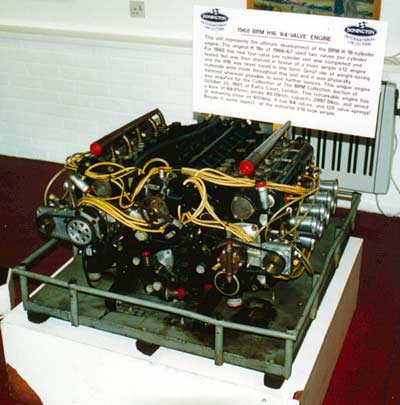 Another monument to needless complexity! The BRM H-16 F1 engine of 1966, 67. Right, that's two flat-eights bolted together. 64 valves. Lots of places to leak. Notice the puddles on the steel frame under the engine.
This is the Maserati driven by Tazio Nuvolari in 1934. They made the pieces pretty back then. Notice the wide, large diameter brake drums. Below you can see a screen to keep rocks out of the air scoop.
Notice the longitudinal leaf spring with a multi-plate friction damper. A turn on the nut pressed the plates together more tightly and increased damping. The end plates and two middle plates bolt on this side. The three other plates bolt on the other side. Six friction disks are sandwiched between. I think it's a beam axle with the spring underslung.
I definitely recommend a trip to Donington if you get to The Olde Country.