uploaded 2/24/2000
Dampers at the Autosport Show
All the big damper OEMs (Original Equipment Manufacturers) had displays on the main floor. This is the Bilstein display. Below is a photo of the Koni booth.
The photos above and below show Sachs racing shocks on display.
The damper pair on the left above connect to a common reservoir. I assume that's an hydraulic third spring as first developed by Jeff Braun. Jeff Ryan of Penske Shocks developed a similar system still used today in both pro and club racing. Take a look at the bottom of the Contents Page for the article on Engineering in Club Racing. Ted James used Penske hydraulic third springs front and rear on wife Nancy's DSR.
The damper on the far right of the photo above has four adjustments using by-pass flow outside the main tube.
Bilstein, Koni, and Sachs are all European-based, high-volume, manufacturers of OEM and aftermarket shocks. Koni is a Dutch company with a main plant south of Rotterdam. More than half of their business is rail vehicle dampers-big, government-specified units. They are wedded to making product using stamped, spring-steel internals. They make both double-tube and single-tube, gas pressure dampers. About 50 years ago they were the only company making shocks that could be used on racecars. Kees de Kock, their designer retired several years ago. Koni has layers of management committed to dynamic disregard of customer needs.
Bilstein is a German industrial company which bought the patent for gas-pressure dampers from the originator, the French vibration researcher, Professor Christian de Carbon. In 1957 Mercedes-Benz used gas-pressure shocks on production cars for the first time. Light weight, more consistent ride, and more flexible mounting configurations were the benefits over the conventional double-tube shock. Bilstein has great engineering and manufacturing expertise. Their image in the U.S. is good. For a while they were the shock of choice in NASCAR. Their "Corvette valve" is still used by a lot of NASCAR shock guys even on shocks made by other companies. But Penske and Ohlins have pretty much taken over the U.S. stock car market.
I talked to a Sachs guy at the Autosport show and he said they were going to enter the NASCAR market. I asked him what he thought about the new spec-shock rules. He didn't know about them.
Not many Europeans understand the U.S. racing market. They don't appreciate the size of our country. If you leave out Spain, all of Europe isn't much bigger than Texas.
The Eibach Spring display. That's Ralf Eibach with the cel phone. Ralf and his sister Swantje are the third generation of Eibachs involved in the business. Their father, Wilfred, succeeded his father as the company's leader.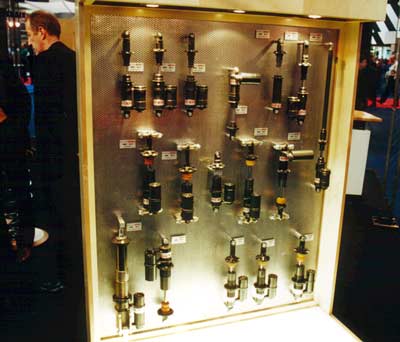 These two photos reveal the new damper line Eibach is introducing.
These shocks were designed by Richard Anderson and are manufactured in the Eibach facility near Birmingham, England. There are OEM, aftermarket, and racing dampers here. Eibach markets springs all over the world and adding a damper line makes sense.
SPA is the U.K. distributor for Penske Racing Shocks. They designed and build a portable damper dyno. Owner Richard Barns got started in racing fabricating parts and components like aero-shaped tubing for suspension pieces. They fab the complicated hubs and bearing carriers for F1 teams and CART chassis manufacturers.