Aero Doodads at Nazareth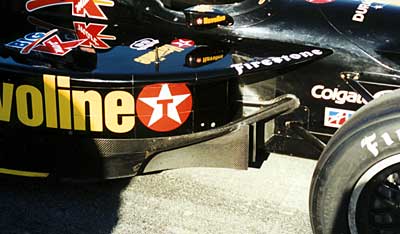 Here's photos of the underwing inlets on the Swift 010.c above and the Reynard 99I below. Notice they're similar but only two strakes compared with Lola's three. Hence the strake gap!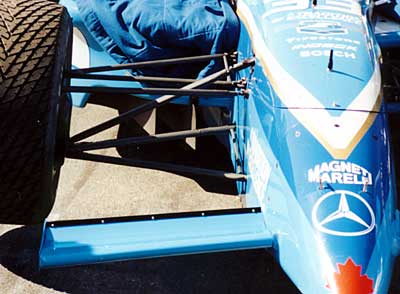 With the small speedway wings mandated by CART the teams were looking for every possible pound of downforce. Most teams have an aerodynamic development program in addition to the constant development work done by the chassis manufacturers.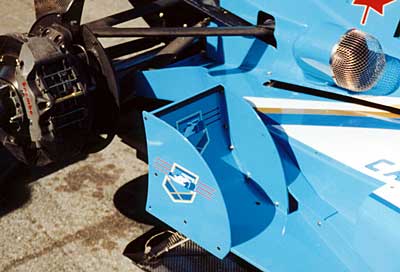 It's difficult to see but there is a fence that runs behind the inside end plate on that kickup. I'd guess that's another small detail in the ongoing attempt to clean up flow around the rear tire and create smooth flow to the top of the diffuser. This is Greg Moore's Ilmor/Mercedes-Benz powered Reynard.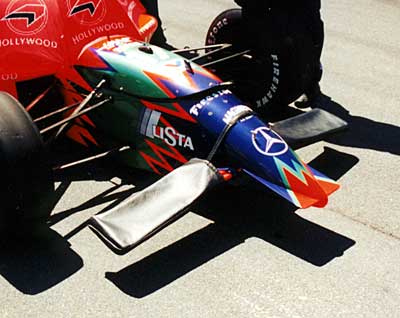 One of the unique mods is what the PacWest guys were calling "The Platypus," shown here on Mauricio Gugelmin's Ilmor/Mercedes-Benz/Reynard. Someone told me these two planes on each side of the nose produce more than 40 pounds of downforce. They also spoil the air and direct it down into the underwing inlet.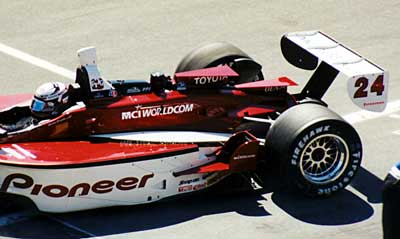 Scott Pruett's PPI crew kept the back of his car covered drawing my attention to the car. I was told these two delta-shaped planes help clean up the air to the rear wing. Notice the small rear wing mandated by CART rules.