uploaded 5/25/2000
Shocks at the Indy 500
Return to Indy Qual Start Page
Engineer Jeff Braun talks to driver Ronnie Johncox as Eibach shock technician Cooper King listens.
Eibach springs and dampers coming off a Riley & Scott chassis. The team gave up on the R&S chassis as did the other teams that tried to run them. The consensus is the R&S chassis didn't incorporate the same gains from last year as Dallara and G-Force. The engines lost about 70 hp going from 4.0 to 3.5 liters. That cost the 1999 Dallara and G-Force cars about 10 mph, from 227 to 217. Off-season wind tunnel development put the 2000 chassis back to 223. But not the R&S. Lift/Drag is the whole deal.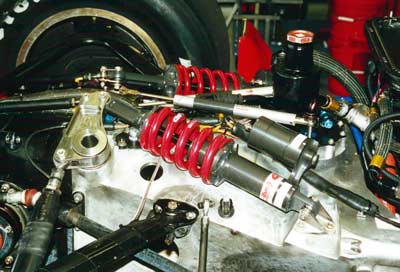 The Eibach damper is not a revolutionary design. It's an external reservoir, pressurized, double-adjustable monotube design. But its small diameter combined with smaller diameter springs could have a packaging benefit. The modular design is well thought out and the shock just looks good. The internal components emphasize low weight and low friction as well as adjustment repeatability. The driver, Ronnie Johncox, said he could feel the difference. He told me the car moved around less and felt more predictable so felt more comfortable closer to the outside wall entering and exiting the turns.
Here's a front suspension using one Hypercoil spring and one Eibach spring (the red one) with Ohlins TT-44 dampers. These are 3-way adjustable but 4-way is available.
Koni 2812 dampers are mounted on this car. Truesports, the U.S. distributor for Koni has modified these dampers for less weight. It looked to me like about half the cars in the garage at Indy used Konis, a third used Ohlins TT-44s and the rest Penskes. This is in contrast to the CART paddock where you'll see TT-44s on all the cars except Newman-Haas who use a proprietary Ohlins system and Rahal who make their own dampers similar to Penske designs.
The damper is arguably the most critical component on a racecar. A team has to use the tires available and the driver is hired for all kinds of weird reasons. The damper is the only adjustable component in the amazingly important triangle of driver, tires, damper.