uploaded 5/24/2000
Speedway Landmarks
Return to Indy Qual Start Page
I drove to Indianapolis from Springfield on Friday morning, May 19. It was cold and overcast. By 10:30 I was in the garage area talking to friends. Teams were pulling cars to pit lane getting ready for practice at 11:00.
The new pagoda-shaped building is not quite finished but will be complete in time for the Formula 1 race in September. Every structure along pit lane has been torn down and replaced.
The Borg-Warner trophy prominently displayed.
Vince Granatelli drove the Lotus four-wheel-drive, turbine-engined car that almost won the race and forced a rewrite of the rules.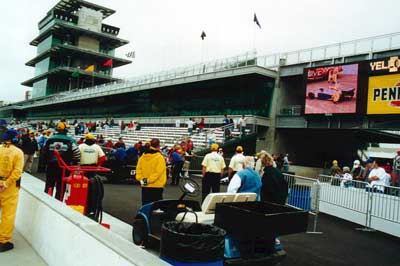 A view from the pit lane outside the entrance to Gasoline Alley, just under that big-screen TV.
The media center is also unfinished. Although huge and well equipped, the old-timers groused about the glare from the huge windows. They longed for their old home under the stands you see across the main straight. That's Mike Harris of the Associated Press on the left and Lewis Franck of Reuters news service on the right. Lewis has rigged a glare guard for his laptop from a cardboard box and a hat.
Arie Luyendyk visits on pit lane. He admitted to missing driving but is still involved. He'll be in the ABC announce booth on race day.