Eibach Springs, Page 2
The Company

In 1951, Heinrich Eibach founded a small production shop in Finnentrop, Germany that has grown over the years into a leading manufacturer of advanced suspension components. Eibach is an original equipment supplier to Ferrari, BMW, Volkswagen, Ford, and other auto manufacturers. Racing customers include Alfa Romeo, AMG, BMW Motorsports, Ferrari, Ford, and Lola. Eibach products appear on race cars all over the world competing in Formula One, Indy Racing League, CART, Sports Car, NASCAR, German Touring Car, GT Cup, off-road racing, and Sports Car Club of America professional and club racing. Eibach also supplies replacement springs and engineered suspension kits to people wanting to modify their road cars for a distinctive look and/or improved handling.
Eibach has manufacturing facilities in Germany, Japan, England, and the United States. Their U.S. plant is in Irvine, Calif. just south of Los Angeles. This facility houses manufacturing, engineering, and sales in a building of 50,000 square feet. Another building nearby provides 15,000 square feet of warehouse space. Monthly spring production in Irvine is 30,000 to 40,000 units.

Making Springs the Eibach Way
The process starts with the best material for the product, precision-drawn wire.Most Eibach racing springs are made from a steel high in chromium and silicon which is slightly more fatigue resistant. For a product that is subject to cyclical stresses as is a spring the fatigue strength of the steel is the most important characteristic.

Eibach stocks precision wire in small increments of diameter so their designs can be optimized, allowing the lightest spring for the customer's needs. Chrome-Silicon wire is stocked in 1/4 mm (0.010 in.) increments in diameters above 9 mm. Below 9mm the increment in diameter is 1/10 mm (0.004 in.).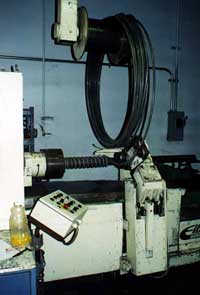 Some springs such as those specified by NASCAR rules are made of large-diameter chromium-vanadium steel wire and are cold wound over a mandrel as in the photo above.
Automatic Winding Machine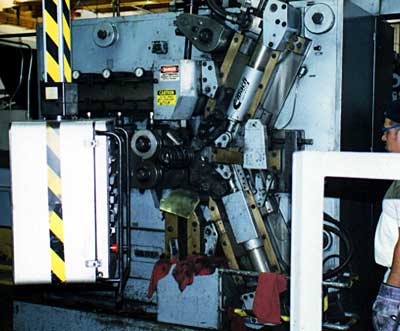 This is a computer-controlled coil winding machine that is very impressive to see in action. Wire comes into the machine from the left and the new coil spring seems to grow out of the hydraulically-controlled tools. The following three photos show the machine producing a barrel-shaped spring.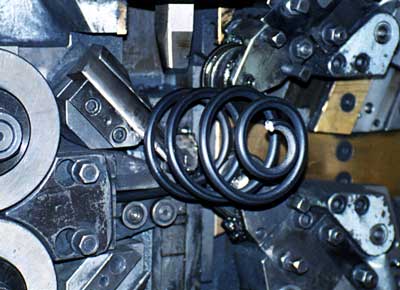 That's a powerful chisle at the middle top of the photo which cuts the finished spring from the wire stock.
Machine operators check parts coming off the machine as they adjust the tooling for a run of barrel-shaped coil springs.

Eibach engineers decided years ago that hot-forming springs causes hydrogen embrittlement and reduces fatigue strength, so all Eibach springs are cold-formed. This extremely robust, computer-controlled winding machine uses wire at a rate of 180 ft/min. producing roughly 400 parts per hour.

After cold-forming, the springs go into this oven for a heat treatment process that increases strength and fatigue resistance.
Eibach Springs, page 3