Engineering in Club Racing, page 2
The More Simple Solution
Lutrell Harms started racing karts 15 years ago and earned a regional NCK kart championship in 1986 when he was 25 years old. He gained experience working at Sears Point Raceway maintaining Formula Fords used at the Bondurant Driving School. When Bondurant relocated to Arizona, the Russell Racing School moved in at Sears Point and Lutrell went to work for them. He used the familiar Crossle 32 FF chassis as a starting point for his DSR. "Working on the Bondurant and Russell cars was valuable," Lutrell told me. "I could see what parts failed and I got to drive a lot of different cars so I could feel the effects of different setups."

Lutrell spent 2 years of his spare time and about $10,000 building his DSR, patterning the body shape after the Swift DB-2 Sports 2000 and adding a rear wing. He won the first race he entered and went on to earn the 1990 SCCA San Francisco Region championship. "In 1997 I went to The Runoffs," Lutrell said. "I qualified third, led the first lap, and finished third."
Lutrell used square alloy-steel tubing for the main chassis rails and round mild-steel tubing for stiffeners. Most DSRs use front and rear hub carriers designed and cast in aluminum by a company in Southern California. The front suspension utilizes unequal-length A-arms ball-jointed on all ends. The rack-and-pinion steering rack mounts behind the front axle line. The tubular front and rear anti-roll bars were fabricated, as were most of the mechanical components, by Lutrell. Anti-roll bar adjustment uses sliding clamps to increase or decrease the lever arm.
The brakes are AP two-piston calipers using 10-inch solid rotors and driver-adjustable bias. "I'm not down to minimum weight," Lutrell said. "So I'd rather not use the heavier vented rotors. The cars keep going faster though and the brakes are getting marginal. The fact that this is club racing for trophies limits the amount of money people spend on the cars. No one uses exotic materials to lower weight. Most cars weigh close to 1,000 pounds. The glass fiber body work is heavy and it would be very expensive to duplicate in carbon fiber."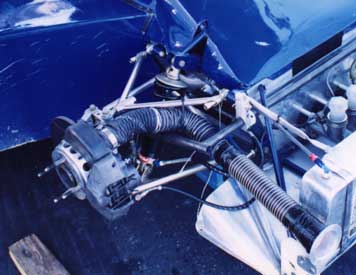 Lutrell's car uses 13-inch diameter wheels front and rear and bias-ply Hoosier racing tires measuring 7 inches wide front and 10 inches wide at the rear. The dampers, mounted inside the usual helical coil-springs, are Penske double-adjustable units. "I don't adjust them much," Lutrell explained. "It feels OK and I don't test enough to come up with new settings."
Engine
The engine is a 1,000 cc four-cylinder, DHOC, 20-valve unit from a Yamaha FZR 1000 motorcycle. Lutrell says it produces about 155 hp at 11,500 rpm and 83 ft-lbs. of torque at 10,000. Fuel and air are metered by four Kehin slide-valve carburetors. "The stock Mikuni carbs don't work," Lutrell said. "The float bowl allows the fuel to slosh around too much. I've got the same problem with the oil pan. A motorcycle leans in a corner so they don't need a baffled pan. I should have a dry-sump system and an oil cooler, but I get away with putting an extra quart of oil into the engine."
The crankshaft is stock as are the valves and valve springs. High-compression pistons, custom piston rods, and special camshafts are the major engine modifications. "I use the stock ignition system," Lutrell said. "These engines have been available in wrecking yards for as little as $800 but lately they cost almost $3,000."
The cockpit instrumentation is straightforward. An electronic system commonly used on karts shows rpm and mph on an LED display. The unit retains maximum readings and stores the data from 1 lap. Round, analog gauges are used for oil pressure, oil temperature, and water temperature. A separate unit to the right of the steering wheel records and displays lap time with the aid of a track-side beacon.
Lutrell uses the stock Yamaha 5-speed gearbox with chain drive to a locked rear axle with constant-velocity joints and half shafts. He has also fabricated a unique mechanical gearshift system utilizing up-shift and down-shift paddles behind the steering wheel connected to the stock shift links with steel cables. "I added a neutral light and gear indicator lights to the dash. Braking into a corner the down-shifts can happen very fast."

The rear suspension locates the drive wheels with trailing arms, an upper lateral link, and a reversed lower A-arm. Springs and dampers are identical to the front suspension except for spring rate and damper settings.

The car's aerodynamics is a product of the continual thought and constant experimentation of the designer/engineer/driver. "The front winglets cured a high-speed push," Lutrell explained. "I have another nose that has a diffuser built in but it created too much downforce. The car bottomed and I didn't have time to find the right front springs. The way the car is right now I can feel the rear wing vibrating at speed and I think the air is blowing up off the nose creating turbulence. I'm going to add a small dam on the top of the nose to spoil the air and decrease the separation."
After a project of this sophistication has been in use for a time improvements come to mind. Two years ago Lutrell added some chassis tubes to stiffen the car. He knows what he would like to do to make it faster, "I have a lot of ideas but I'd have to build a new car."
D Sports Racing page 3