updated 8/27/99
Thursday, a Test Day
Jan Magnussen started the weekend in a Swift chassis driving for Patrick Racing. He started the race on Sunday driving a Reynard made from parts of various vintages. He crashed and did not finish the race.
Here's a close up of the Swift front wing. Notice the carefully sculptured Gurney on the trailing edge. The cars had to run the speedway wing specs and the designers are trying to get all the downforce they can from the small wings.
Swift Future?
The hot rumor of the weekend was that Newman-Haas Racing would run Lolas next year and Carl Haas would become the exclusive U.S. Lola distributor again. This after he and Lola parted company with a law suit a few years ago. I even heard a rumor that Mark Handford, technical director at Swift would go to work for Lola and Lola would buy Swift.
If Newman-Haas has given up on the Swift chassis that means that none of the teams that have bought them are still using them regularly. That includes Della Penna and Team Gordon. Patrick Racing is still trying to develop a Swift but is using Reynards most of the time.
Supposedly there are two "big" teams still considering buying Swift chassis for next season. If it's true that Newman-Haas is abandoning Swift and neither of those other teams makes the Swift decision, the Southern California company might be done with their Big Car project.
Many people will say that Carl Haas will use whatever chassis he can make money on. Lola suffered from the perception that N-H got all the good development parts from Lola before the customer teams. That idea has persisted with Swift. In actuality N-H funded a separate aero program at Lola because then Lola head Eric Broadley believed that suspension development was the design priority, not aerodynamics. Carl was paying for those parts that everybody thought were factory parts. The same perception has dogged Swift.
Why would Lola get back in bed with Carl Haas? I don't think they will. They might sleep in the same house though. I think Haas will become the parts distributor and Lola U.S. in Indianapolis will continue to sell the cars to the teams. Time will tell.
Roberto Moreno sits in a Newman-Haas Swift awaiting the start of the practice session. The sun has broken through the clouds. Moreno has earned the nickname "Supersub" for his stellar performances replacing injured drivers. In most cases he's out-performed his teammate and finished races better than the guy he's replacing. It's hard to believe he doesn't have a steady ride.
Scott Pruett is in his Arciero-Wells, Toyota-powered Reynard waiting to go on track. John Dick, his engineer, is the guy in glasses. Pete Hansell, ex-All American Racers, is the other engineer. John worked with Paul Tracy at Team Green last year and the start of the '99 season. After Long Beach he jumped ship for Arciero-Wells. Scott Pruett started the season with Ken Anderson as his engineer. Scott seems to have improved after John arrived. Must be that engineer/driver "chemistry" thing.
This is Greg Moore in Turn 4. I stood there and watched for a while and I saw a significant bump that affected the rear of the cars if the driver got just a little high. I also thought I could see the cars rotate a little bit just after mid-corner. The rear end seemed to move out just a bit. I asked another person standing there to see if I was imagining it, but he said he thought he could see it too. Maybe the rear tires went to a slightly higher slip angle when the driver got back on the throttle.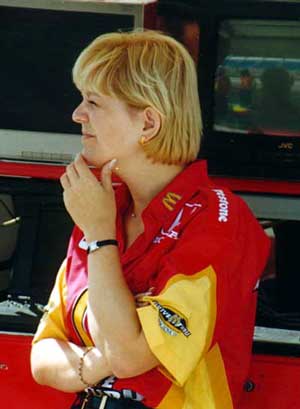 Diane Holl is the engineering manager at Forsythe Championship Racing which used to be Tasman Racing. Their driver, Tony Kanaan, got his first CART win this year at Michigan. Diane planned a wind tunnel program that came up with some interesting aero tweaks. I wasn't at Michigan so I don't know if there was something trick on the cars there.
That's Don Halliday, Dario Franchitti's engineer in the middle looking over his glasses at the monitors. Kim Green, team manager is on the right. During the Mid-Ohio TV program, announcer Parker Johnstone said Don Halliday had "found something" that was the reason for Dario's fine performance this year. When I saw Don at Chicago I told him what Parker had said and congratulated him on finding "something." Don laughed and said, "Good, maybe I won't have to work so hard now."
I know Parker didn't mean it that way but some people would rather believe in magic than hard work.
After his session in the car Max Papis uses his hands to help describe what the car was doing.
Helio Castro-Neves had the best time in the Thursday am session with a lap of 24.439 seconds. Roberto Moreno was third and Robby Gordon driving an AAR Eagle was fifth-quick with a 25.141.